Dish Drainer Black Drip Tray Dark Grey + Dish Stand Black + Glass and Cutlery Holders
Description
The Moonstone drip tray is composed of 2 elements that make it simply unique:
A

design and practical dish drainer

that looks good in any kitchen. With a glass and cutlery holder (knives included), you will have all the space you need to dry your dishes.

A

Diatomite plate/base

that fits under your dish rack. Diatomite is a rock composed of fossilized algae from the seabed. Its 2 unique characteristics are its absorption capacity (very porous rock) and its ability to dry immediately.
With your new Moonstone drip tray, no more old metal racks full of limestone or waterlogged, moldy trays. The Diatomite drip tray will instantly absorb dripping water to prevent mold and bacteria and then get almost immediately dry.
The drip tray has a grooved surface, so that water can spread evenly and to improve its absorption. Maintenance of the Diatomite base is child's play, simply place it vertically and wash it with a sponge or damp cloth.
No more unpleasant odors, limescale, bacteria or mold!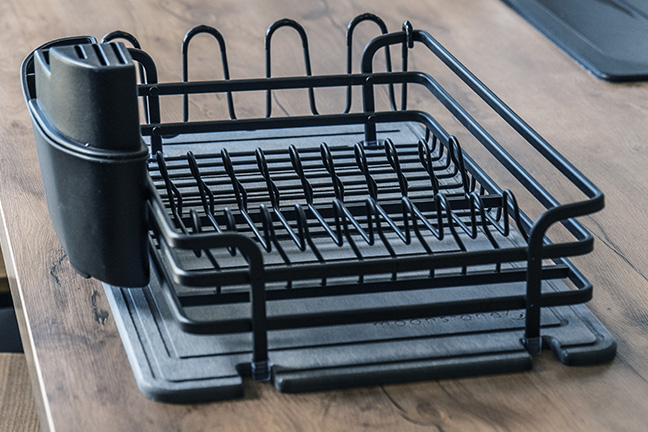 Benefits
0 chemical product

Dries in seconds

No stagnant water

Anti-odor

Antibacterial

Anti-mildew

Air permeable

Easy to clean

Design

Glass and cutlery holders included

Rigid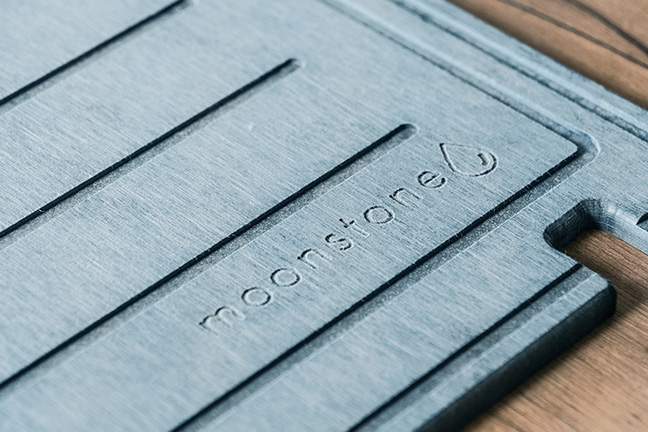 Tech Specs
Weight: 2.5 kg

Dimensions: 33 x 49 cm

Colors: Black & Storm Dark Grey / Silver & Cloud Light Grey

Composition: Base: 60 % Diatomite / 30 % vegetable fiber / 10 % quartz sand

Dish stand: Aluminum

EAN: 712221048135